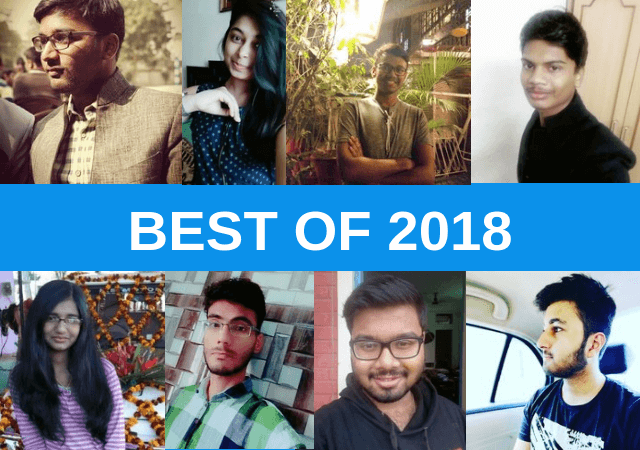 Like previous years, this year too, many IITians, engineering and medical students from prestigious institutes published examination tips and advice for JEE and NEET aspirants on Mystudycart platform.
Best of Mystudycart 2018 : IIT-JEE and NEET Examination Tips
Here we are sharing 2018 summary of some of the best tips from the students who cleared JEE/NEET, now helping and guiding future aspirants.
Many people will tell you that they studied X hours or you should study X hours for getting a good rank. Remember, quality of hours matter not the quantity. You may study less, but with full focus. It is better to solve 10 different variety problems rather than solving 20 similar problems with just different numerical values.
Aryan Agarwal (AIR-196, JEE Advanced 2018)
Post : How to Get a Rank Under AIR 500 in the JEE Advanced?
Weekly tests. Monthly tests. And those All India Test Series. Exhausting? It's just the beginning! You might fail sometimes, you might think that time is running very fast, you might feel that PHYSICS and you were never meant to be together but then remember, you are fighter and you have to fight back. Or maybe learn to love Physics a little more! The path to your favourite college isn't easy. You would have slow down at times and sometimes accelerate as well. But then, you have go on. There is no looking behind. Once you decide, nothing can stop you except you.
Shweta Dube (NEET-UG 2018 AIR 289, JIPMER AIR 63)
Post : What is the Most Important Thing to Crack the NEET Exam?
Clearing IIT (i.e. JEE Advanced ) is not an easy task and it can't be measured on any scale of brain power. It is something that requires a lot of determination, dedication, theoretical in-depth knowledge, your keen interest in topics/subjects and learning in a smart and efficient way.
Anshul Barjatya (IIT-BHU Varanasi)
Post : Can an Average Student Crack IIT-JEE in the First Attempt?
Build interest in the subject: You can do this by active learning where you can question yourself, make flowcharts, spider diagrams etc. which will keep you completely involved and active. Just sitting and looking at the book is sometimes monotonous. So incorporate new methods of studying to make it more interesting and make sure these are effective. If you are just putting in the time to note down everything from the book on the paper you'll end up wasting your time with an illusion that you studied for more hours.
Gazala Hitawala (MBBS from RNT Medical College, Udaipur)
Post : How to Study for Long Hours Without Feeling Bored and Sleepy
Board basically focus on knowledge while on the other hand, JEE Main basically focus on the application of knowledge. So firstly you have to acquire the knowledge with clear concepts. This will take care of you Boards. While JEE Main requires practice and fast problem solving using various results and tricks.
Abhijeet Mahato (IIT-Kharagpur)
Post : How Should I Prepare for Both JEE Main and Boards?
Be thorough with your strengths, but more than that should be well aware of your weaknesses and vulnerabilities. I have seen a lot of people focusing more on things that they are well versed or comfortable with (i.e. their strengths) and playing Hide and Seek with their incompetencies and shortcomings. Remember your weakness will be the first one to pull you down in this race. So it is better to tackle them head on and make them your Ally, rather than neglecting them till eternity. Work on your weak points so that you no longer need to call them as your shortcomings.
Ankit Kumar(Maulana Azad Medical College)
Post : What are the 10 Qualities that a NEET Aspirant should have?
Its very important to go through your class notes each day after the class. Things are fresh then and when you revise that time only, the whole scenario starts becoming clear. Its also directly related to your understanding in the class just the next day.
Rakshit Tiwari (IIT Guwahati)
Post : What is the Best Way to Understand a Concept in JEE/NEET Preparation?
Make your own mini tables from vast amount of info present – Tables are actually a way of packing facts which seem disconnected. If you sense that tables which have been made in your book are not helping in memorising, try making a new table according to your convenience. For instance, a table of all s block elements with all the properties can be made into smaller tables dealing with few connected properties (thermal stability, melting point, boiling point).
Aditya Chaini (AIIMS Delhi)
Post : Tricks to Remember Complex Things in NEET/AIIMS Preparation
There are many books in the market which deviate you from the mainstream study and some useless topics are taught in it. Keep your syllabus paper beside and only go through the topics and sub topics mentioned in it.
Sai Chand Desireddy (IIT Madras)
Post : What Mistakes Should One Avoid During IIT-JEE Preparation?
You have to Practice.. Practice.. Practice… and Practice. This is one of the most important thing which plays a great role in the one's preparation for any entrance exam. It will help you improving your concept application power and will also gradually develop confidence in you that, "Yes! I can do any question from this topic now, whether it is easy or difficult."
Abhishek Garg (AIR 8 in JIPMER 2018, AIR 760 NEET, AIR 212 in AIIMS 2018)
Post : How Can I Score 650 Above in the NEET in 1 Year Starting From Zero?
11th standard is crucial because its the time when you build up your basics, which is very important. Clear each and every silliest of your doubts with each topic. If you joined any coaching institute try to make use of it's facilities like test reports, analysis of tests, doubt sessions etc. Get used to the test format for mains and the test duration for advanced i.e. 6 hours.
Mansi Sarawata (AIR 2980, JEE Advanced 2018)
Post : IIT-JEE Suggestions for Class 11 and 12 Students
The human brain remembers those things which it feels are of frequent need and use. For example we do not forget facts which we use everyday, the road to our school, playground, phone numbers of our near and dear ones etc. But we tend to forget the floral formula of Solanaceae quite easily. The reason being the infrequent use of the same. So if you make a habit of having a quick look at it again and again, the brain feels it's important and retains it. Basically revision is the key here. Understand the concepts, revise the facts. That's it.
Shriyal Prabhudesai (MBBS from AFMC, Pune)
Post : How Can One Memorize a Lot of Stuff to Crack AIIMS and NEET?
All I learned from my JEE preparation and my 1st year at IIT Kharagpur is that stress management and the ability of 'not to panic' at critical times are the factors that segregates the best, among the large number of candidates.
Abhijeet Mahato (IIT-Kharagpur)
Post : How Do Toppers Stay Calm During JEE Exam If It's Lengthy or Unexpectedly Tough?
Even if you feel your concepts are clear, do not become overconfident in that particular topic and keep revising that topic, because hard work always gets rewarded.
Subhadeep Pal (IIT-Kharagpur)
Post : How Does One Know When The Concepts of a Chapter are Clear in IIT JEE Preparation?
The best buildings created are those ones who have the strongest foundation because it takes a lot of effort and power to make them fall. When you start preparing in class 9th or 10th, you are always a few steps ahead of most of your companions. I remember that we were taught a lot about geometry, algebra, vectors, thermodynamics (very basic) during that time and all that helped in some or the other way in last two years. A lot of complicated things such as Voltage, current rules, Magnetic models, etc were also taught so to make the base very clear from that time only.
Rakshit Tiwari (IIT Guwahati)
Post : What are the Advantages of Starting Early for IIT JEE?
We would like to thanks all our authors for providing valuable tips and advice to students preparing for competitive exams like IIT-JEE and NEET. We will continue to publish more useful posts for JEE/NEET aspirants in 2019.
Wishing you all a very happy new year 2019!
Targeting JEE Main, JEE Advanced or NEET? Checkout a Free Online Demo Class by an experienced and qualified (IITian) faculty.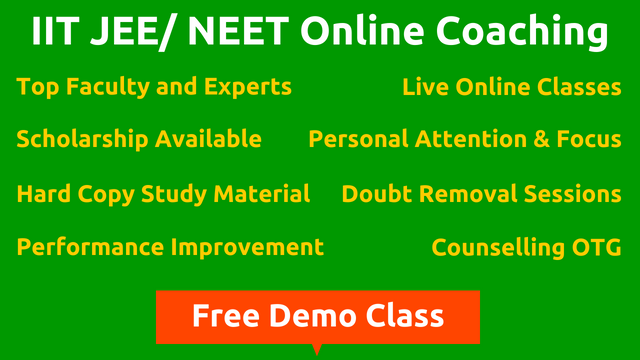 We're listening to students.
Have something to say about this article, or any question in mind? Share it with us on Facebook
Best of Mystudycart 2018 : IIT-JEE and NEET Examination Tips
was last modified:
December 29th, 2018
by