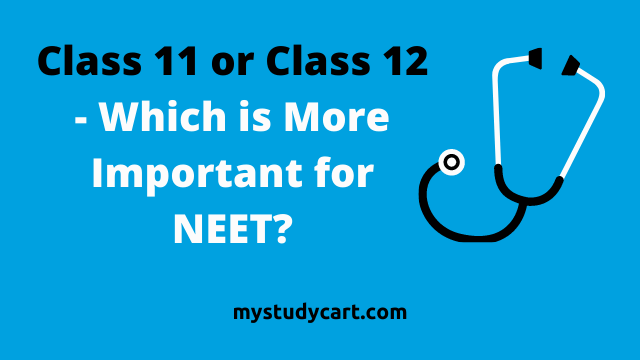 NEET syllabus consists of topics and chapters from class 11 and 12. Whether a student starts NEET preparation in 11th or 12th standard, he/ she has to study a 2 year syllabus. Many students feel that NEET exam gives more weightage to a specific class syllabus, so they generally ask the below question :
Which class is more important for NEET – 11 or 12?
The correct answer is that both class 11 and 12 are equally important for NEET. I know it's a very cliche thing to say but the moment you start giving importance to one class and undermine the other class chapters, your preparation will go in a downward direction.
Class 11 covers fundamental principles without which you can't answer class 12 questions. The topics you study in 11th standard have direct or indirect reference in 12th standard. Without proper knowledge of class 11, you will struggle to learn class 12 topics.
Weightage of Class 11 and 12 in NEET
According to some teachers and previous years NEET papers, class 12 has slightly higher weightage than class 11 in NEET as the number of questions asked from 12th syllabus are more than 11th. But it's not always the case with every NEET exam. As a NEET aspirant, consider 50 percent will be the weightage for 11th as well as 12th syllabus.
Many students who start their NEET preparation late have a lack of time to complete the full NEET syllabus. They want to cover more weightage syllabus in comparison to less important chapters and topics. For such students, instead of giving less preference to 11th class syllabus, they should target NEET important chapters of both class 11 and 12 syllabus.
Class 11 Weightage in NEET – Important Chapters
| Physics | Chemistry | Biology |
| --- | --- | --- |
| Mechanics | Chemical bonding | Human Physiology |
| Vectors | General organic chemistry (IUPAC nomenclature) | Diversity in Living World |
| Kinematics | Structure of Atom | Structural Organisation in Animals and Plants (Morphology and anatomy of plants) |
| Laws of Motion | Equilibrium | Cell Structure and Function |
| Work, Energy and Power | p-Block | Plant Physiology |
| Thermodynamics | Reaction Mechanisms | |
| Rotational Dynamics | Redox Reactions | |
| Gravitation | Thermodynamics | |
| Oscillations and Waves | Hydrocarbons (Alkanes, Alkenes, Alkynes) | |
Class 12 Weightage in NEET – Important Chapters
| Physics | Chemistry | Biology |
| --- | --- | --- |
| Electrostatics | Electrochemistry | Reproduction |
| Current Electricity | Chemical Kinetics | Genetics and Evolution |
| Magnetic Effects of Current and Magnetism | p- Block Elements | Biology and Human Welfare |
| Electromagnetic Waves | d and f Block Elements | Biotechnology and Its Applications |
| Optics | Coordination Compounds | Ecology and Environment |
| Atoms and Nuclei | Biomolecules | |
| Electronic Devices (Semiconductors) | Polymers | |
| | Chemistry in Everyday Life | |
Is 11th important for NEET?
Yes, class 11 is very important for NEET. Class 11 has many conceptual and difficult topics that need to be understood well. Complete all the topics and chapters of class 11 in order to get a good rank in NEET. Even if you started your NEET preparation in class 12, try to cover your backlog topics of class 11 along with the class 12 studies.
Is 12th more important for NEET?
Although a few previous year NEET papers had more class 12 questions than class 11, it doesn't mean class 12 is more important for NEET. Class 11 is also important. Examiners can surprise everyone in the NEET paper as there is no official weightage of syllabus.
How to clear NEET if I have wasted 11th class?
If you wasted your 11th class and want to clear NEET then your priority must be time management between 11th and 12th topics. Start with your missed, weakest and important NEET chapters of 11th standard along with 12th. Divide your schedule into 70% of your study time for class 12 topics and 30% for class 11 topics.
Be calm and patient. You have made a mistake of wasting time in class 11 but the good thing about all this is that you know you have made a mistake and want to correct it.
Study NEET important topics of both class 11 and 12 from the best faculty and experts in Mystudycart NEET Online Courses.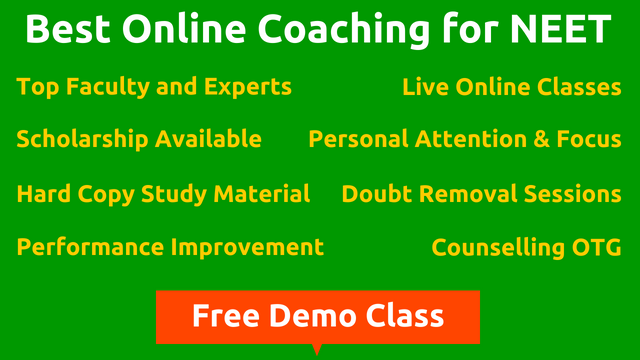 We're listening to students.
Have something to say or any question in mind? Share it with us on Facebook or Twitter
Class 11 or Class 12 – Which is More Important for NEET Weightage-wise?
was last modified:
February 28th, 2023
by