Everybody knows IITs are one of the best educational institutes in the country. For students, the motivation factor to clear IIT-JEE is the experience of IIT life and the diverse opportunities and skills they get to learn in an IIT campus. For parents, it can be the record packages and a secure future.
There are three key questions related to IIT-JEE coaching that almost all students and parents go through. Let's see them one by one.
Why is IIT-JEE Coaching required?
It's the first question students and parents think of when IIT-JEE preparation comes to mind. Luckily these days we have so much information about IITs and JEE that everybody is aware of the intense competition in IIT JEE. If you don't prepare well, you will stay behind, that's the simple logic behind the need of coaching for JEE preparation.
Related Post : 5 Signs you Need Coaching for JEE
I am not saying that you can't clear IIT-JEE without coaching, you can definitely do that. But on average, out of 50, If 1 student clear JEE without coaching, 49 of them do it with the help of coaching.
[Don't show me the official reports of IITs (from last year or before that) where they say that more than 50% of students who cleared JEE didn't take coaching. That's a flawed report. Students give wrong information to the institute and there is no verification process. I personally talked with some students and they agreed that they submitted false information, just to avoid any partiality or issue later on.]
This is what Dheeraj Sanghi, Ex-Professor IIT Kanpur, said
@AnjaliMody1 @IIITDelhi Claim on JEE form is 50%. But in reality it is perhaps more like 5%.

— Dheeraj Sanghi (@DheerajSanghi) January 24, 2017
Aman Bansal, JEE Advanced 2016 Topper, on importance of coaching,
Coaching is very necessary as without the right guidance aspirants are mostly clueless about the right preparation strategy. They may not get through the right study materials and mock tests. Even if one opts to solve the test papers himself, getting them checked by mentors and following their feedback is very important.
When to Join IIT JEE Coaching?
It's a tricky question (decision) for students and parents. When should we start IIT JEE coaching? There is no best possible answer for this. The NTSE 2015-16 (Stage-1) topper of Delhi region, Simarpreet Singh Saluja, has joined coaching early. JEE is his main aim and he wants to pursue CSE from IIT Delhi.
Edit (April 30, 2018) : Simarpreet is JEE Main 2018 Delhi State topper with AIR Rank 9 🙂
Many coaching providers have batches running for class 8 students for JEE preparation.
Is it too early for a student to be part of the competition?
A sensible person inside us feels that, Yes, it's too early, let the child enjoy his studies for now. But have you ever asked a student what he/ she thinks of joining IIT-JEE coaching at this age? Talking about early coaching, Simarpreet said,
"My faculties gave me the right direction & support and helped me develop my skills quite early in my career."
The thing we have to look here is, when we talk about the IIT-JEE coaching program for class 8 students, it's not the actual JEE preparation (JEE syllabus). It's about building a solid foundation for the JEE Exam. Simarpreet got the benefit of early coaching which helped in the development of his IQ, Logical and Analytical Thinking.
And it's not just about JEE, a student also gets prepared for JSTSE, NTSE and various Olympiads through these coaching programs.
Ideally, foundation programs for class 8, 9 and 10 are beneficial to students preparing for IIT JEE, at the same time there are students who start IIT-JEE preparation in class 11, join a 2 year coaching program, and clear JEE easily. A student can also clear JEE with only 1 year preparation by putting in a lot of effort and hard work.
My advice for parents is, whether a student is in class 8, 9 or 10, and if IIT is the target, enroll for a foundation course. Monitor the student's progress in the starting year, and then decide whether you want to go ahead or not. It should be a student's decision whether he/ she wants to continue with it.
Which Coaching to join for IIT-JEE Preparation?
Despite a tough student's life, Kota is still the first place that comes to mind for IIT JEE preparation. Delhi and Hyderabad are also popular choices for students. Most of the coaching institutes have branches in major cities but the quality of faculty is not the same in all.
The process in all of the big coaching institutes is similar, first they take a test, and based on the performance, they will allot you a batch. Higher batches are called "Toppers" or "Rankers" batch. If you don't perform well in the admission test, they will put you in a lower batch (with average teachers). During the course, you can move to a higher batch if you score well in monthly or quarterly tests.
Then there is online coaching like Mystudycart, which transforms a traditional classroom into a digital medium and provides IIT JEE preparation at students' homes only. Mystudycart delivers live JEE online coaching with two-way interaction between teacher and student.
The online coaching for IIT-JEE provides some extra benefits to students which are not available in traditional coaching classes. To know more about IIT-JEE online preparation and the quality you can expect from it, you can read this: IIT JEE Online Coaching Benefits
Finally, just remember that, whichever IIT-JEE coaching you choose, it will not guarantee you a seat in IIT. Clearing IIT-JEE is a journey of lot of hard work and determination.
Related posts:
Integrated Coaching Vs Coaching Institutes Vs Online Coaching
Online IIT JEE Coaching for Class 11 Students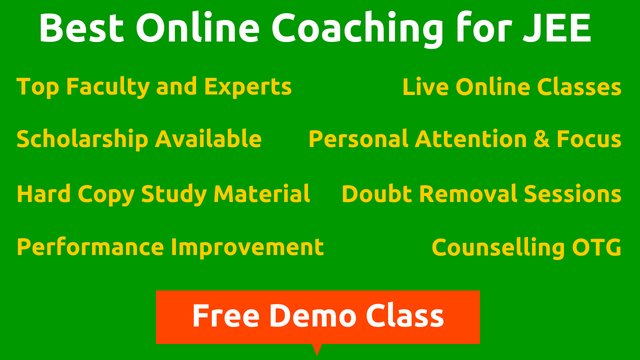 We're listening to students.
Have something to say about this article, or any question in mind? Share it with us on Facebook
When to Join IIT JEE Coaching? When Should we Start IIT Coaching?
was last modified:
July 15th, 2022
by