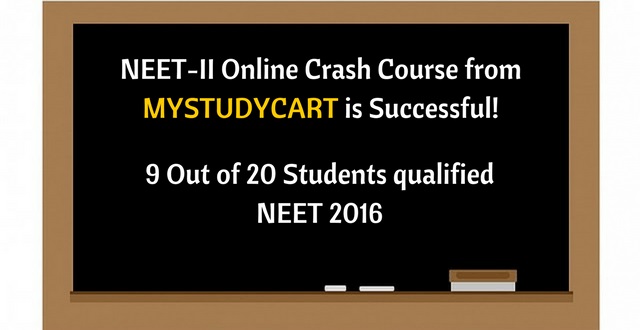 It gives us an immense pleasure to inform you that 9 out of 20 students who enrolled for our 2 month online crash course for NEET-II have successfully qualified NEET 2016!
Mystudycart Students who Cleared NEET 2016 are :
Dhakshika Thalaimalairajan (Dubai, UAE) – The Millennium School, Dubai
Subhash Kumar (Bihar, India) – Practical High School, Siwan
Cyrus Lalkaka (Mumbai, India) – Bombay International School
Shreyas Gonchikar (Pune, India) – GG International School
Apparanjitha V Ramana (Chennai, India) – SBOA MATRIC HR SEC SCHOOL
Anitha Anil kumar (Khorfakkan, UAE) – St.Mary's Catholic High School Fujairah, UAE
Shivani Bandiwadekar (Goa, India) – NA
Mahima Sharon Gigi (Kuwait City) – Indian Community School, Kuwait
Harshitha Anand (Mysore, India) – MMK SDM GIRLS PU COLLEGE
The credit goes to our academic and course planning team to launch a NEET short crash course in "doubt removal form" when SC ordered CBSE to conduct NEET-II on 24th July.
What students liked about this online course for NEET :
A digital classroom where they can interact with teacher and ask their doubts, very similar to regular coaching classes.
Recordings of the classes were provided for better understanding and revision.
The course batch timing was suitable for them, where they took classes right from their home. Parents were also present in some initial sessions to get the feel of platform. Their instant reactions were like – very impressive, it (online coaching) really works!
Online practice tests where their performance were analyzed and they improved their weaker areas.
And finally, the helpful nature of the teachers and the counselling team which regularly motivated them to feel confident for the exam.
We appreciate all students hard work to re energize again, you didn't panic and successfully cleared the NEET 2016.
Congratulations. Time to celebrate 🙂
This is also a message to all those who put question marks on the credibility of online coaching and the quality of teaching delivered via digital medium.
Are you a medical aspirant targeting NEET/AIIMS in 2019 and later, and you have computer/laptop and internet connection at home, checkout a Free Demo Class.
We run only light batches (with max 20-25 students) so that teachers can focus well on each student's performance and progress.
---
Some kind words from Students and Parents – Testimonials
I was working hard to identify an adequate course for my daughter to prepare for the medical entrance. I am happy to say that Mystudycart team is very supportive in arranging the classes to our needs.The online classes delivered by them are very clear and helpful and it meets the expectations of the student. The faculty's effort and teaching style is very helpful for my daughter. Thank you Mystudycart team. I will recommend my friends also….

Thanks & Regards,
Ambika Rajan
Mother of Dhakshika Thalaimalairajan from Dubai, UAE
To Mystudycart Team
Thank you for sending the details about Mystudycart (Sir). You are concerned about each and every class, concerned about the Test Series (to do the test on time before the due date), Thanks for sending the doubts to the teachers, sending the recordings, for giving the report of my strength and weakness in my Test. I thank each and every one of Mystudycart Team for helping me to make my classes a better one.

To The Faculty (Teachers) of Mystudycart
Thank you for clearing all my doubts, for interacting, for being helpful, for being supportive, for giving positive attitude, for providing advice, for providing strategy to prepare for NEET, for telling my weak and strength points, for helping me to be interactive with the teachers. Thank you for helping me to prepare for NEET.

You're sincerely,
Anitha Anil Kumar from UAE
My daughter was state board student till 12th class and facing problem with NEET Preparations, but Mystudycart helped her with online coaching classes for NEET. Whatever she has performed in the exam was because of their efforts and they tried level best to help us during the NEET preparations.
Thanks,
Mother of Apparanjitha V Ramana from Chennai, India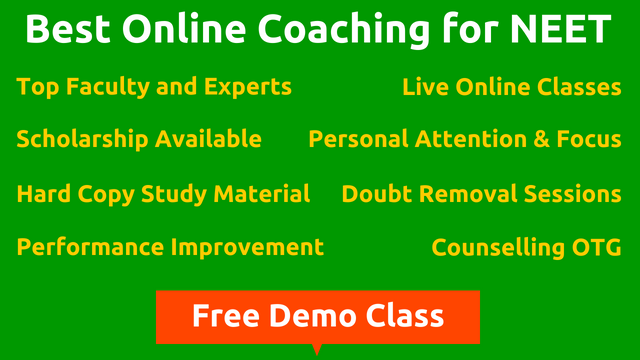 We're listening to students.
Have something to say about this article, or any question in mind? Share it with us on Facebook
Setting Benchmarks – Mystudycart NEET-II Online Crash Course Results
was last modified:
June 5th, 2018
by