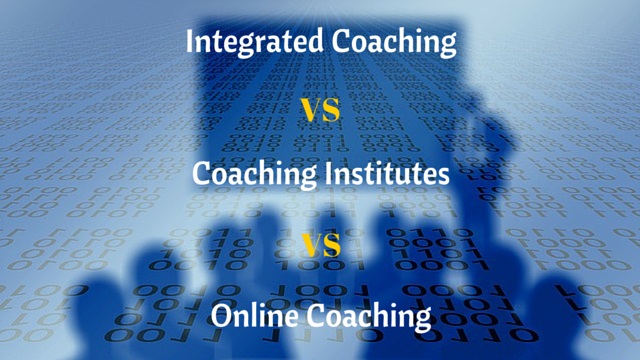 With so many schools and junior colleges all over India started providing integrated coaching by collaborating with private tutorials for engineering and medical entrance examinations, students are not dependent on traditional coaching institutes only.
At the same time, Online coaching in the last few years has become a convenient and affordable option for students and parents who are not able to get the quality JEE/ NEET coaching due to language and location barriers.
Among all these options, students and parents have to decide which will be the best for them based on their requirements and limitations. Here we are going to look at some Pros and Cons of all the types of Coaching – Integrated Coaching, Coaching Institutes, and Online Coaching.
Integrated Coaching
Advantages of Integrated Coaching
Saves your traveling time. Classes take place in school premises only.
You don't need to do much research about which coaching to join if you do what your school says.
Integrated coaching is a partnership with your school, you may be charged a combined fee for school + coaching. So, you can get the better package in comparison to joining a separate coaching institute.
Disadvantages of Integrated Coaching
The fatigue factor. Coaching classes generally conducted right after the regular school classes, not giving enough time to students to take a break.
Forced faculty. When you join any coaching, it's advisable to take some free demo classes to assess the quality of teaching. Integrated coaching is trusting your school without doing your own research, just like not able to see a trial before buying any product/ service.
Lack of quality teachers. Integrated coaching providers tie up with so many schools that they are unable to provide best of the faculties to students. Along with it they also have to reserve their good teachers for their separate coaching branches (called as coaching institutes).
In some places, Integrated coaching is banned. So, there is a risk factor when joining any integrated coaching program.
Coaching Institutes [Offline]
Advantages of Coaching Institutes
Better and dedicated faculty than integrated coaching.
You can take a free demo class to judge the quality of teaching. And then it will be your decision to enroll or not. You are not bound to what your school chooses for you.
You will get better competition among the students from different schools and places.
Disadvantages of Coaching Institutes
Lack of personal attention. In any reputed coaching institute, like in Kota, you can have an average of 100-150 students in a batch. With so many students in a batch, it's not possible for a teacher to provide personal counselling and keep an eye on each student's performance.
Average teachers if you don't get the Toppers or Ranker's batch. In most of the reputed coaching institutes, students are divided into batches where the top ones get the best teachers and resources.
High fees. Most reputed coaching institutes have high fees, ranging from 2-3 lakhs per year, and if you go to a place like Kota, there are additional expenses like rent, food, etc. make it more expensive.
What overcomes the disadvantages of integrated coaching and separate coaching institutes? It's Online Coaching.
Online Coaching
Advantages of Online Coaching (MYSTUDYCART)
No travelling. Saves time and money both. Parents can assess the performance of a child at home itself.
Quality teachers (IIT qualified and experienced). Many IITians, NITians, Doctors (Medical interns) who can't join coaching institutes physically are using online platforms to prepare students for exams like JEE and NEET.
The classes take place in the evening time, mostly between 8 PM – 10 PM (our preferred timings). Students already finished with their school work and other stuff before the class.
Free online demo class to understand the platform and teaching quality. Any technical issue on the student's side will be taken care of in the technical orientation before the class.
Personal attention and monitoring are the hallmarks of online coaching. We are having not more than 20 students in a batch that allows our teachers to carefully monitor the progress of each student.
Having students from every part of the country and outside India (NRIs) also, online coaching allows better global benchmarking and analysis reports.
Attractive scholarships, regular counselling, continuous online help from subject and exam experts, customized sessions are some of the key advantages of Online Coaching.
One disadvantage of online coaching is Technology. Surprised! Yes, with so many benefits that technology provides to us, it also brings faults like system failure, connectivity issue, etc. Even though online coaching providers take all necessary precautions like technical orientation sessions before the scheduled class, still technical glitches can happen.
Some online coaching like Mystudycart provides recording of the class to students after the live class, so in-case of any technical problem, they can still watch the same class any number of times. Recordings are additional assets for students.
So, Which Type of Coaching to Join for IIT JEE and NEET?
It depends on students and parents' requirements. If you are not getting a good coaching institute physically, you can get the same quality in online mode. You saw the benefits and limitations of each type of coaching. Think, explore, and take a decision that suits your needs.
Related Post : Online or Offline Coaching – Which is Best to Join for JEE/NEET?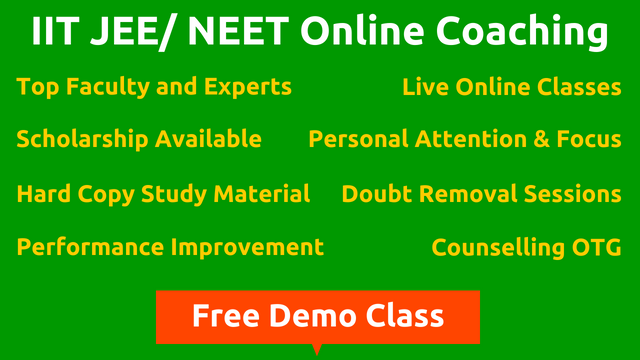 We're listening to students.
Have something to say about this article, or any question in mind? Share it with us on Facebook.
Integrated Coaching Vs Coaching Institutes Vs Online Coaching: Which one is good for IIT JEE and NEET Preparation?
was last modified:
January 28th, 2022
by