COVID-19 pandemic has changed the way students prepare for competitive exams like JEE and NEET. Online coaching replaced the traditional offline coaching classes. [Online coaching providers like Mystudycart were already providing online coaching classes before the pandemic.]
People who used to discard online coaching before the Corona, calling it a waste of time and a lot of distraction, were themselves studying through online classes! Either by choice or compulsion, students and parents have realized the potential of online coaching. When coaching institutes were closed due to COVID and students were stuck at home, it was the online coaching that came to the rescue of aspirants.
Students (and parents) interested in JEE/ NEET preparation are asking the below question these days :
Which is the best to join for JEE/ NEET – Online or Offline Coaching?
In this post, I will highlight the major differences between online and offline coaching, pros and cons of online and offline coaching, and which type of coaching you should join for JEE/ NEET.
Table of Content :
Online vs Offline Coaching for JEE/ NEET
| | |
| --- | --- |
| Online Coaching | Offline Coaching |
| Classes conducted online on computer/ laptop/ mobile. | Classes conducted physically in a classroom. |
| Learn from the best JEE/ NEET teachers outside your city or state. | You will study from local teachers only. |
| You can meet your teacher virtually and can ask doubts online. | You can personally meet with your teacher and discuss your doubts. |
| Recordings of classes can be available for future reference. | Recording facility not available in offline coaching. |
| Students in the batch will be from all over the country and abroad. | Only local students will attend the coaching. |
| You can make an online study group. | You can physically interact with your peers. |
Online coaching is not much different from offline coaching. Students want to study from good quality teachers who can explain concepts well, should be able to clear their doubts, give personal attention, must be friendly and keep an eye on their performance. This is easily possible in online coaching.
Online coaching has IIT qualified teachers, students batches, regular tests, study material, test series like offline coaching. In some cases, where experienced teachers are teaching in online mode to aspirants, online coaching provides even better quality than local coaching institutes.
Note : YouTube videos and Apps are not online coaching
Pros and Cons of Offline Coaching
Advantages of Offline Coaching
Regular classroom feeling.
Less scope of distractions.
Reduced screen time.
Disadvantages of Offline Coaching
Lack of personal attention due to large batch sizes.
Average teachers if you don't get the toppers batch.
High fees (additional traveling, food, rent expenses).
No option of recording classes, if you miss a class then you miss it permanently.
Advantages of Online Coaching
Online coaching is efficient, productive, time-saving, resourceful and easily accessible.
Online coaching allows students to take classes from experienced and qualified teachers at home.
In online coaching, the classes are recorded for future reference, so if you are absent in any class, you can watch the same class later at any time.
Online coaching gives you a big advantage that if a good teacher is in a different city or state then you can still take classes from him/ her in online mode.
Which is Better for JEE/ NEET – Online or Offline Coaching?
The best coaching for JEE/ NEET is where the teachers clear all the doubts of the student, give personal attention to the performance and motivate him/ her to do well in tests and exams. This coaching can be online or offline. After the pandemic, the bridge between offline and online coaching has diminished.
Prepare for JEE/ NEET from IIT qualified experienced teachers at the comfort of your home in Mystudycart Online Courses.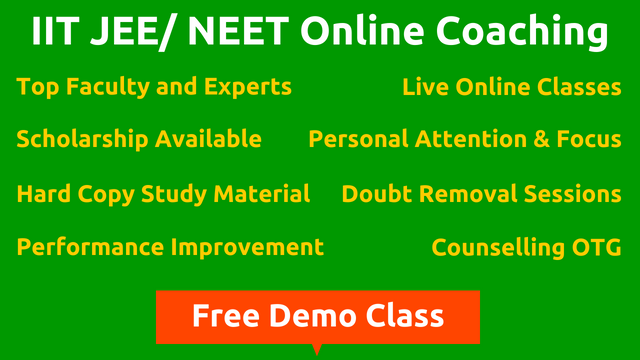 We're listening to students.
Have something to say about this article, or any question in mind? Share it with us on Facebook or Twitter
Online or Offline Coaching for JEE/ NEET – Which is Best to Join?
was last modified:
September 24th, 2022
by