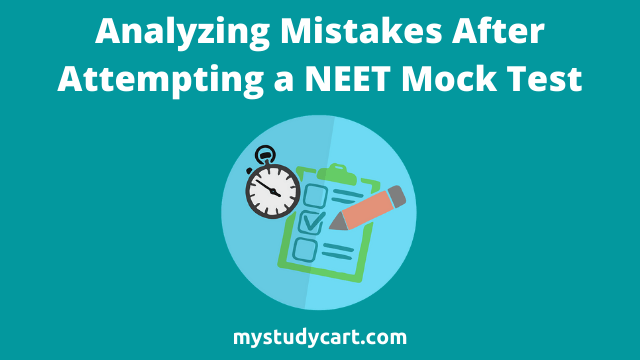 Analysis of your mistakes is very important after attempting a mock/ practice test for NEET. Without proper analysis you are bound to repeat the same mistake in the next test.
When you make a mistake, there are only three things you should ever do about it: admit it, learn from it, and don't repeat it.
Analyzing Mistakes After Attempting a Mock Test for NEET
Whatever mock tests you appear for, make it a habit to analyse the mistakes. You can maintain a record book like I did for analyzing mistakes after attempting the mock test for NEET.
Make three columns:
Column 1: Marks Analysis
This includes the marks you score in all the subjects, i.e. PCB along with a detailed analysis of
Correct : subdivided into fluke and sure-shots.
Incorrect : subdivided into fluke, conceptual error, bubbling error.
Not attempted :
Column 2: Your weak areas
Note down the portions where you lack conceptual clarity or which you didn't study well!
Column 3: Improvement
List of targets you wish to achieve in your next test. This can include proper time management, avoiding bubbling errors, etc.
[I am attaching my own record book for your easy reference.]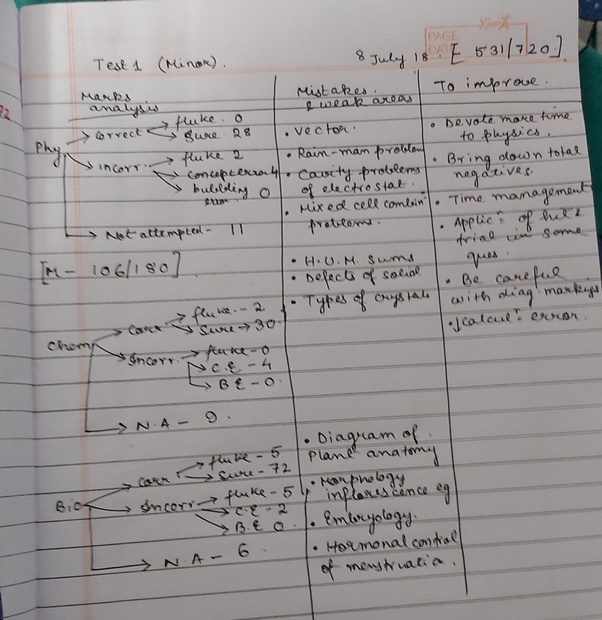 Trust me, this doesn't take much time. But the time you devote here is going to help you a lot in the long run! You can even go through this copy in your free time and refrain from making the same mistake again in the future.
Analyzing NEET Mock Test Paper
Make it a habit to analyse your NEET mock test paper on that day itself and mark all the questions which you left unattended/ wrongly marked. For the questions which you couldn't solve, try solving them at home.
Either case may arise now:
You got it right : So you definitely need to calm your nerves in the exam hall and you need a lot of practice.
You still couldn't: Get the doubt cleared by your coaching teachers/ friends.
Try to reattempt the questions in category 2 after a week.
And voila, you have your own test analysis copy which can help you a lot in analyzing your performance throughout the year.
Tip: Analyze and correct your past mistakes before they paralyze your future! An undiscovered error will always crave for repetition. Kick out errors; enjoy a bright future!
Practice NEET new pattern mock tests with auto-analysis feature in Mystudycart NEET-UG online test series. 
Related Page : Tips to Improve NEET Test Score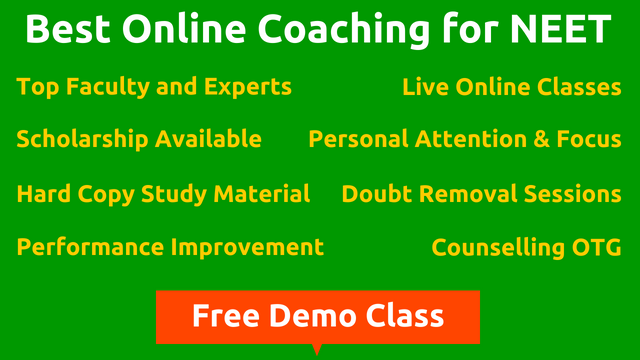 We're listening to students.
Have something to say or any question in mind? Share it with us on Facebook or Twitter
How to Analyze Mistakes After Attempting a Mock Test for NEET?
was last modified:
September 8th, 2021
by