Gone are the days when only a place like Kota used to have best teachers and study resources for IIT-JEE preparation. With rise in digital technology, many students nowadays are studying for JEE Main and JEE Advanced in online mode from IIT qualified experienced teachers at the comfort of their home.
How to Study Online for JEE Main and JEE Advanced?
In this post we will see how to study online for JEE through online coaching classes using computer/laptop and internet connection. (Note : If you are looking for free online resources like video lectures, tutorials, apps, then this post is not for you.)
1. Join an established JEE online course
Online coaching is not much different from traditional classroom coaching. The requirement from students is same i.e. to get good quality teachers – who can explain concepts well, should able to clear their doubts, give personal attention, must be friendly and keep an eye on their performance.
You should join a proper JEE online course which promises to fulfill the above requirements. Wherever possible, first take an online demo class to assess the platform and teaching quality.
2. Don't expect quality JEE online coaching at cheap price
There is an old saying that, "Quality always comes with a price". The online classroom is similar to a physical classroom, only the mode of teaching is different. JEE Online coaching has same IIT qualified teachers, students batches, regular tests, study material, test series, etc. So how can you expect it to be cheaper than well known coaching institutes?
But the reputed coaching institutes provide successful results? Isn't it? Yes, true. They have huge number of students. Hence more results. But the percentage of successful candidates to total number of candidates is not that great. In Kota, it's not even 1%. Some do unethical practices to get results.
3. Online JEE coaching > video lectures, apps and tablets courses
Interacting with a teacher is one of the best thing for students preparing for JEE. The teachers with whom they can discuss their doubts, weakness and other issues. The teachers who continuously monitor their performance and learning. The teachers who can give them suggestions for improvement.
All these things are possible only in JEE online coaching classes. Video lectures, apps or tablet courses can be supplement resources but to clear JEE you need to join a coaching i.e. online classes if you want to study online for JEE.
4. Be regular with your online classes
The students who cleared JEE in the past will tell you that you have to be regular with your classes in coaching. This is also valid with online course. You need to pay attention and show discipline throughout the course duration.
One of the benefit of joining JEE online coaching is that if by any means, due to any unavoidable circumstances, if you miss out a class, then you can get the recording of the same exact class which you can see at any time for better understanding and revision.
5. Don't hesitate to clear your doubts in online class
Some students are shy and they don't ask doubts. Don't be that student. By not clearing your doubts, you are making a blunder. It can lead to procrastination and backlogs. Be brave and ask your doubts. In online classes, you are at your own place, not in a physical classroom, so you should be more confident in asking your doubts and questions.
6. Make class notes and review them after the class
This is beneficial both in offline and online classes. Write down most new words, definitions, terms, and phrases. Copy down diagrams, charts, and tables that summarize information. Do review the notes after the class. Make edits wherever required.
7. Do your homework/assignments on time
Just like physical classes, teachers in online classes will give you homework and assignments from time to time. You should complete your work on time. Any questions and doubts should be asked in the next class.
8. Be prepared for the online class in advance
When you are about to attend an online class, spend 4-5 minutes recalling past reading, past notes, and recent homework problems. The goal is to remind yourself of what was learned in the previous class. When you successfully do it, your brain will be ready to link the new information you take in today with the past learning.
9. Revise what you are taught in the online class
The best way to understand a concept or topic is to revise it after the class, as soon as possible. Things are fresh then and when you revise that time only, the whole scenario starts becoming clear.
10. Take advantage of JEE online test series
As we know, JEE Main and JEE Advanced both are computer-based tests. One of the big advantage of online course is that all the tests will be computer-based online tests.
Through JEE online test series, you can practice JEE online mock tests on computer/laptop at your home. You can analyse your tests through auto-generated reports that will show you the metrics like time spent on each question and section, which helps in better time management in the upcoming tests and JEE exam.
So these were the key points that you need to keep in mind while studying online for JEE. For any further help and assistance regarding JEE online preparation, you can follow me on Quora.
Want to study online for JEE Main and JEE Advanced? Choose Your JEE Online Course – From a team of experienced IIT qualified teachers.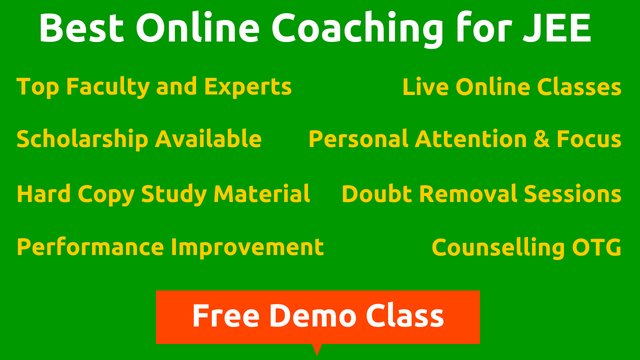 We're listening to students.
Have something to say about this article, or any question in mind? Share it with us on Facebook
How to Study Online for JEE Main and JEE Advanced?
was last modified:
December 24th, 2018
by