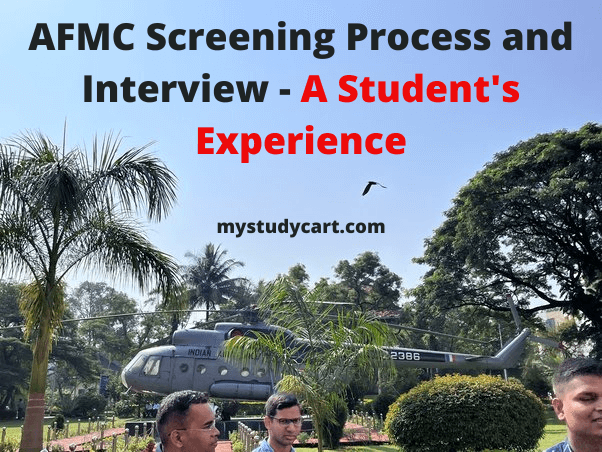 This is a guest post from Adwit Jain (MBBS student at Calcutta National Medical College).
An experience I would like to have again. An experience never to be forgotten.
The AFMC dates were announced and I just barely qualified for the screening process with 621 marks as the cutoff was 617. I was quite excited and after a bit of tussle with my parents for going to Pune or not we decided to at least go through the AFMC screening process.
Everyone has their dream colleges as AIIMS or JIPMER. Mine was AFMC, along with the many that came for the screening process in Pune.
So I reached Pune on 29th of October at around 11:30 pm. My screening was on the 30th so it was tiring the next day in the morning.
First Day of AFMC Screening Process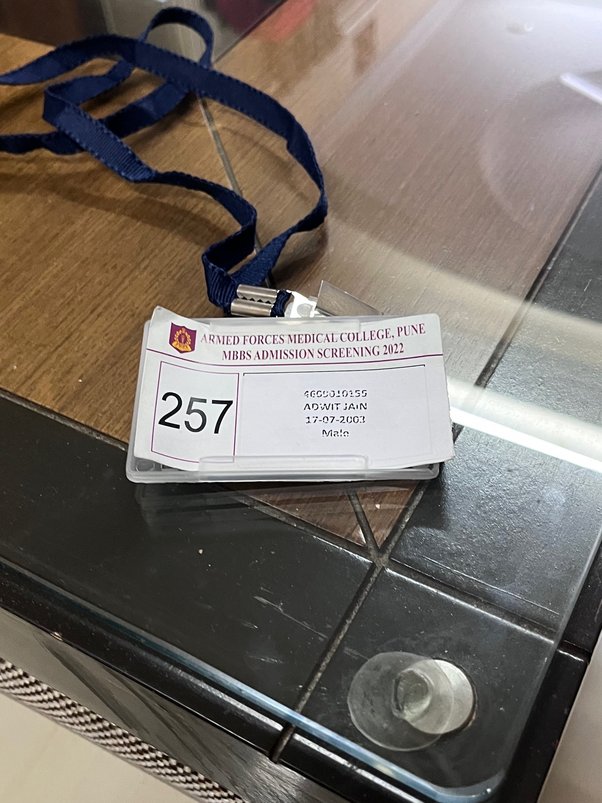 The officers of navy, air force and the army gave a brief introduction and gave us some forms for filling up. Then we lined up for our verification of documents. That was quite a time taking process. An officer from West Bengal checked my identification mark and then started talking to me in Bengali, me not so fluent with it said whatever I knew.
Then we had our blood and urine samples taken. I was the last guy of the 7:30 batch and was an extra in that batch so I was shifted to the 9:30 batch and I had to wait longer for the remaining processes of the day. Then I had my ECG done and the officer who did that was very friendly and asked me about my hometown and origin. (ECG was done after removing every cloth except our underwear, so talking to him was a bit awkward there😅).
Then we went to eat something and the vada pav at the canteen was just so good!
AFMC Screening Tests – TOELR and PAT
Then we were taken for AFMC TOELR (Test of English Language, Comprehension, Logic and Reasoning) and PAT (Psychological Assessment Test). TOELR included simple comprehension, the synonyms, antonyms were a bit confusing and very easy logical reasoning. PAT was just a psychological test for your interview with what I had heard.
Everyone was nervous thinking that it was the interview and then came back from inside happily. We soon realised that it was the pre-interview and had a good laugh about it. He was an air force officer who just guided us on what to say inside the interview room. So just before my interview the officers took a small tea break.
Now the INTERVIEW:
AFMC Interview Experience
I was nervous but confident and went inside the room with a smile. There were around 6–7 officers of different ranks. My heart filled with hope and I just thought that yes this is where I want to be, this is what I want to do, this is what I had dreamed of. I greeted them and asked them if I could take a seat.
Questions asked to me in AFMC Interview
So the 1st few questions were about me and my hobbies and what do my parents do and where do I come from.
2nd question: They asked me about any movie I know of that was shot in the Darjeeling Himalayan Railway. (I am from Siliguri so!)
I answered that I did not know any (not watched much of bollywood). So the officer in the center said, "Aajkal ke bachon ko hamare zamane ki movies ke baare me kaha se pata hoga and then started to laugh about it".
3rd question: They asked me about table tennis and how do you know that a TT ball is broken?
I answered that there's a typical sound that it produces when it bounces and then one of the air force officers said that try burning it sometime.
4th question: Do you want to serve in the army?
I said yes sir with a lot of hopes.
5th question: Do your parents want the same thing?
I said they are not very much on board with it.
Between this, a staff came to serve some snacks for the officers and they said to serve me too and even asked me to eat it but I thought I will maintain some decency out there😅.
6th question: Why you wanted to become a doctor?
I said that there are many doctors in my apartment where I got my inspiration to serve the society in any possible way.
Then they said, Adwit it was very nice talking to you and I smiled and left.
It was one of the best experiences of my life to be sitting in front of them proud of my country and hopeful that I would do the same one day.
Then we had the chest x-ray and dental checkup and we were done for the day.
Second Day of AFMC Screening Process
It was the medical check up day and it is quite strict from what I had heard and read. I was scared too because I had a slight flat foot I guess. The whole AFMC medical process was quite tiring and it got over at around 4. Then we were called in front of the medical board and they called everyone individually.
Four people before me were rejected due to some reasons. Then I was called, in my mind I thought "Ye toh sirf rejected candidates ko bula rahe hai pehle aisa lag raha hai". I went inside still carrying some hopes with me. The officer said "Beta aap medically fit ho". I just couldn't hide my smile in front of them. This was the most happiest I have been in the recent few years. I came out and conveyed this to my scout who was just as happy as I was. Scout bhaiya was the coolest person I came across at AFMC.
Then I was done for the day.
An Experience to be Remember for a Lifetime
After a few days the AFMC screening results came. I was in the waiting list of candidates. Disheartened but still carried hopes after reading answers on Quora that waitlist candidates go up till 40–50 sometimes. I was at number 33 on the AFMC screening list.
But yeah my hopes crashed when they called up till Boys Waitlist (BW)-145 and mine was BW-148.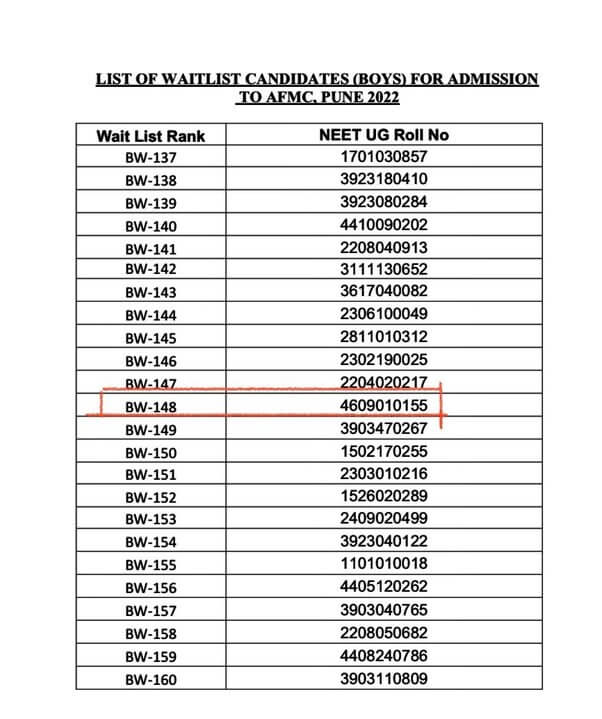 Quite saddened by this I didn't feel like talking to anybody for a few days, but that's what life is right?
The experience the AFMC screening process gave me was to be remembered for a lifetime. I can't even imagine what's it like to be a kilroy at AFMC. One of my friend from New Delhi went through with it and I will definitely be taking all what's going on with him there😁.
Till then goodbye.
Adwit.
Related Post : Tips to Overcome the Fear of Failure in NEET and AFMC Interviews
We're listening to students.
Have something to say or any question in mind? Share it with us on Facebook or Twitter
AFMC Screening Process and Interview – A Student's Experience
was last modified:
December 27th, 2022
by