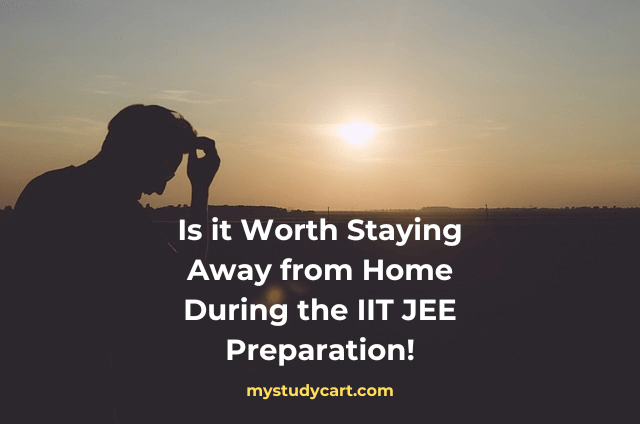 This is a guest post by Vaid Aaryan Jha (Indian Institute of Technology, Dhanbad).
Many future JEE aspirants might be planning to move to Kota for their preparation. I too wanted to shift there after my 10th and asked my parents about the same!
They told me that living alone wouldn't be easy with all self care and dedicated studies.
Still my Mom promised to support my decision, "If you are firm to prepare from Kota then I would also stay with you. But before that take trial classes at Delhi itself."
I loved the idea. Took few classes and changed my plan of going to Kota.
Struggle of Managing Things at Hostel (or PG) with JEE Preparation
Fast forwarding everything. When I came to the hostel at IIT Dhanbad after clearing JEE Advanced, I realized that my parents were right.
I struggle to manage things every now and then. How could a 15 year old teen manage at a PG or hostel in Kota with 10x more pressure of clearing JEE?
The mess food that couldn't satisfy my taste buds, my Kota friends at college would eat easily stating our taste buds don't work any more! Painful? Yaah, surely it is!
Try JEE Online Coaching
Online is the new normal now! I would suggest taking good online coaching for JEE. With your hardwork and dedication you would surely achieve your GOAL. After coming to IIT as well, we need to learn lots of things online.
JEE preparation needs good health, both physical and mental, 24×7 support system that only parents could provide, love, care and all! So staying away without them in such a competitive environment at Kota is not advisable.
Get out of your comfort zone at the right time!
For those who think living in a hostel is hard but you have to get out of your comfort zone if you want to grow, my answer is – I am happy to come out of my comfort zone but at the right time. During JEE preparation, it's not needed!
Vaid Aaryan Jha
JEE Advanced AIR-5047
Related Post : IIT JEE Preparation At Home
Is it Worth Staying Away from Parents for IIT JEE Preparation?
was last modified:
May 8th, 2023
by