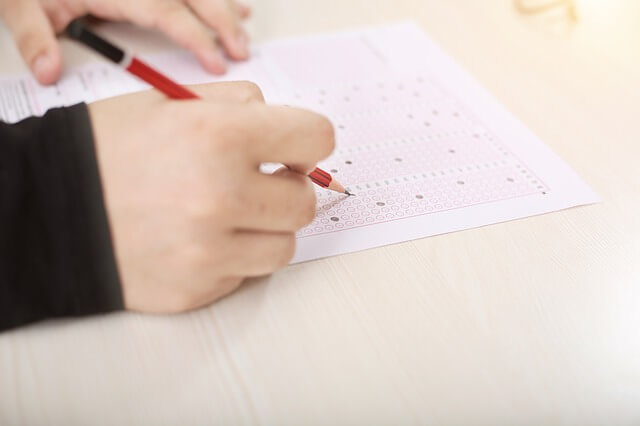 A question that is often asked from past NEET-UG aspirants is – "How did you fill the OMR sheet in the NEET? Is it after solving each section, solving the PCB fully, or after solving each and every question?"
How to Fill OMR Sheet in NEET Exam?
Filling the NEET OMR sheet after solving the entire paper or after each question? No, it's never after solving the entire paper, nor after solving each question.
If you fill the full OMR sheet after solving the complete paper then:
It increases the chances of mistakes as you will be filling a bulk of 180 questions at a stretch.
You will be always worried while solving the questions that you have to fill the OMR sheet too.
Reasons for not following the second method is that if you fill the OMR sheet after each question:
It takes your attention out of the sheet.
Plus if you don't answer consecutive questions and if you have skipped a question in between and if you have the habit of filling the OMR after each answer then it is very likely that you will fill the previous consecutive question that you had skipped in the question paper.
Fill the NEET OMR Sheet after Solving a Section
So my method of filling it was that I used to complete one section say Physics and fill the OMR of that section and then proceed to the next. This saved me from the worry that I will have to keep time to fill the OMR sheet at the last, plus it was a more efficient way as it helped reduce mistakes.
Try to keep yourself at the safest side possible.
Aditya Vikram
NEET 2016 AIR-187, AIIMS AIR-101
Related Page : Online Crash Course for NEET-UG
PS : The image used above is for representational purpose only. In the NEET exam, you will be given pen instead of pencil to fill the OMR sheet.
We're listening to students.
Have something to say about this article, or any question in mind? Share it with us on Facebook or Twitter
How to Fill OMR Sheet in NEET Exam – After Solving a Question or Section?
was last modified:
April 23rd, 2020
by